Bitcoin (BTC) Price Prediction – August 16, 2020
Bitcoin is on a downward move as the king coin reaches the low of $11,745. The bottom line is that selling pressure will resume if the $11,700 support is breached. Also, the bullish scenario stands to be invalidated if the $11,100 and $11,250 support fails to hold.
Resistance Levels: $10,000, $11, 000, $12,000
Support Levels: $7,000, $6,000, $5,000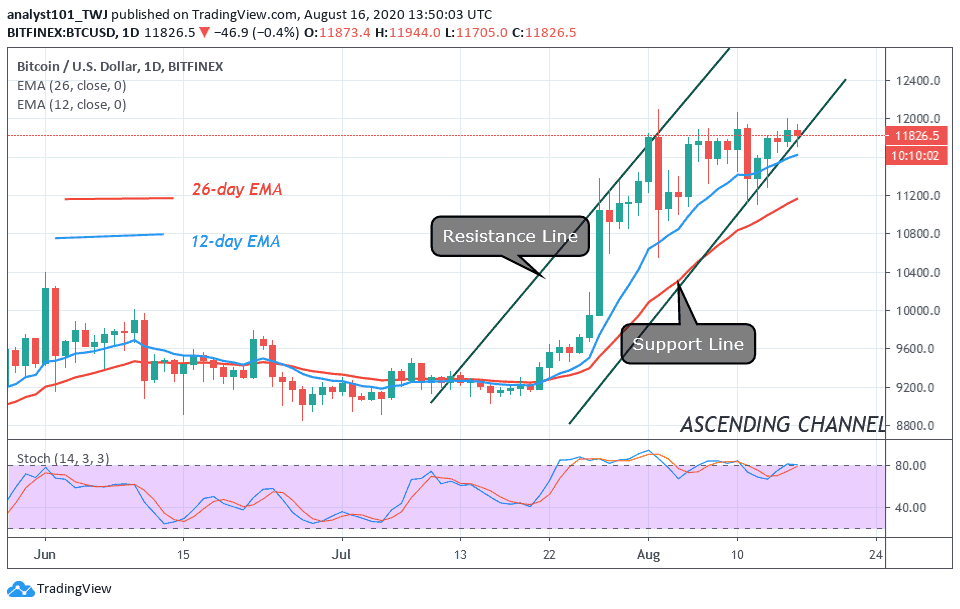 BTC/USD  have retested the $12,000 resistance thrice without breaching the overhead resistance. The BTC price is falling now at the time of writing. The significance of its fall is that it must not fall beyond $11,100. The current uptrend may be invalidated if the bears break below $11,100 support. BTC price may fall to $10.400. Subsequently, the downtrend will continue to a low of $10,000 and $9,800. Conversely, for the upside momentum to continue, the upside price range of $11,100 to $11,300 must hold. In other words, if these support levels hold, it implies that the market wants to resume upward.
Bitcoin Is as a Safe Haven for Different Investments by Former Prudential Securities Chief Executive Ball Bats
The chief executive indicated that he was previously a "Bitcoin opponent". However, he indicated that he sees Bitcoin as a safe haven for those seeking for different investments. He opined that on long term investment, Bitcoin is attractive as a safe haven. Also, while on a short term investment, it is good as a speculative asset. He is very optimistic during the interview that many people will embrace Bitcoin and other crypto currencies as investments.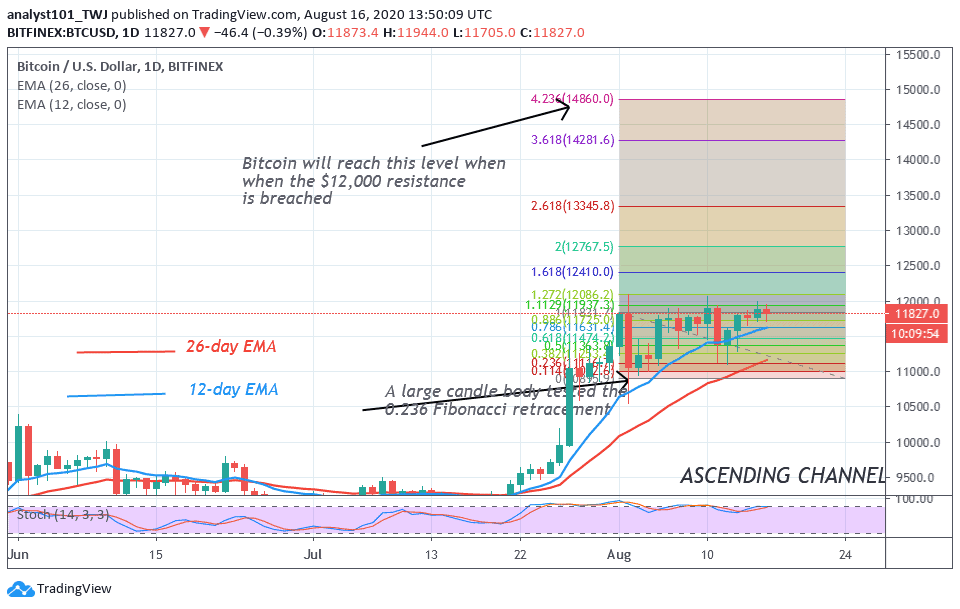 For the past two weeks, Bitcoin bulls are unrelenting as the market continues to retest the resistance zone. We are awaiting the outcome of the August 2 uptrend where BTC was resisted at $12,000 overhead resistance. The bearish candle body tested the 0.236 Fibonacci retracement level. This indicates that BTC will reach a high of 4.236 extension level or $15,000 high.